BIOGRAPHY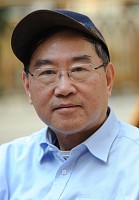 Qiu Deshu
Qiu Deshu was born in 1948 in Shanghai. He founded the Shanghai Grass Grass Society in 1979, bringing up the concept of "independent spirit, unique technique, original style". In 1982, Qiu received inspiration from a crack on an old slate by chance, which is when he started to create works for his Fissure Series. He has continued to study the techniques and deepened its themes in the past two decades.
By ingeniously integrating rice paper with canvas, ink wash with oil paint, painting with sculpture, Qiu made a bold breakthrough to traditional techniques and rules of Chinese ink art. Not only has he found a way to represent the era in constant fissure by means of ink and wash, he also has managed to create a unique sense of beauty – the "beauty of fissure". From the language to the pattern and from the outside to the inside, the subtleties and diversities of the beauty of "fissure" are manifested fully and vividly, imbuing his work with distinct characteristics as well as strong visual impact. During his thirty-year career as a professional painter, he has always been committed to furthering the exploration, research, practice and development of the art of "fissure".
Qiu's works have been widely exhibited both at home and internationally. Nearly sixty museums, galleries and institutes have collected his work.