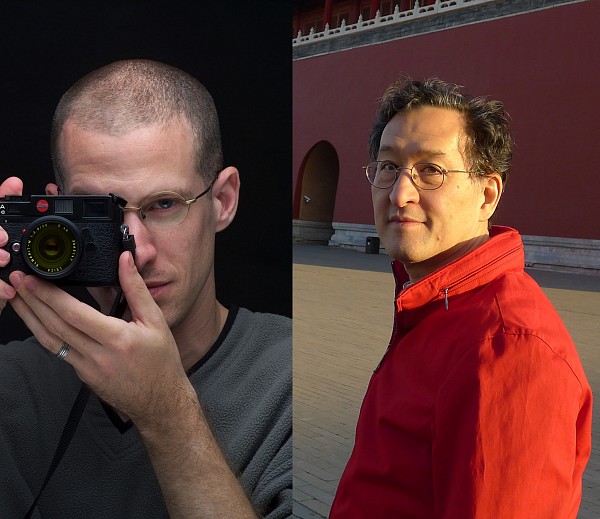 Artist Talk - From 2 Arises 3 : The Collaborative Works of Arnold Chang and Michael Cherney, 2009-2014
July 13, 2014 - 7PM to 8:30PM (A hosted reception will start at 6:30PM)
The unbroken Chinese ink painting tradition that has been perfected over the course of more than a millennium of history continues its evolution into the present day, as evidenced by the current popularity of contemporary ink. As Chinese contemporary art has gained prominence over the past couple of decades, there has been a dichotomy between purely contemporary works and works with a stronger connection to tradition. This division seems to be shrinking as traditional aesthetics begins to merge with newer media in more harmonious ways. The collaborative work of Arnold Chang and Michael Cherney is a particularly vivid example of this phenomenon.
Both Chang and Cherney are hybrid artists. Chang is of Chinese and Western heritage; his strong foundation in traditional ink painting is balanced by myriad Western art influences. Cherney has been based in China for many years; his work centers around combining photography with the subject matter, aesthetics, materials and formats most closely associated with traditional Chinese ink painting.
Since 2009, Chang and Cherney have been experimenting at merging traditional ink with photography in a manner that remains true to the essence of traditional Chinese landscape yet also brings both media forward; in a manner that creates something greater than the sum of its parts. At the edges where two worlds meet, where film grain and ink dots come together, they are able to look beyond rigid categorization; beyond specific cultures, definitions, borders and geographies.
The title "From Two Arises Three (二生三)" comes from the Tao Te Ching (Daodejing), describing how the works of two artists allow for the creation of a third space:
The Tao gave birth to One.
One gave birth to Two.
Two gave birth to Three.
Three gave birth to the Ten Thousand Things
Arnold and Michael will talk about their collaborative and solo works at NanHai Art. There is an exhibition scheduled to open at the Asian Art Museum in San Francisco on July 15th, 2014.
Speaker: Arnold Chang (Zhang Hong) and Michael Cherney (Qiu Mai)
Michael Cherney (Qiu Mai)
One would be hard-pressed to find a "more Chinese" artist than Qiu Mai (b. 1969). Photographer, calligrapher, and book artist, Qiu Mai's work is done with the great sophistication that draws on the subtleties of China's most scholarly and esoteric traditions. Based in Beijing and a successful artist whose works have been collected by The Metropolitan Museum of Art's Department of Asian Art (the first photographic works ever to enter the collection of that department), Qiu Mai's art is less provocative than it is intellectually engaging, meditative, and often simply beautiful. What is provocative is his identity: Qiu Mai is the Chinese name for Michael Cherney, born in New York of Jewish parentage. Cherney's work is the cutting-edge demonstration of artistic globalization: if Asian artists can so readily "come West," then what is to prevent large numbers of future Western artists from "going Asian"? Or, like Qiu Mai/Michael Cherney, going both ways at once, both American and Chinese, modern and traditional.
(Jerome Silbergeld, P. Y. and Kinmay W. Tang Professor of Chinese Art History, Princeton University)
Arnold Chang (Zhang Hong)
Arnold Chang (Zhang Hong), alias Juchuan, was born in 1954 in New York City. He is a native of Jiashan, Zhejiang Province. He studied art history with Professor James Cahill, and holds a master's degree from the University of California, Berkeley, and a bachelor's degree from the University of Colorado.
Primarily a landscape painter, Chang studied painting and connoisseurship with C.C Wang for twenty-five years. He also studied with Kuo Yen-ch'iao in Taipei and Wang Chi-yuan in New York. His landscape paintings have been exhibited internationally and are in the permanent collections of many museums, including the Metropolitan Museum of Art, British Museum, Asian Art Museum, LACMA, The Art Institute of Chicago, The Minneapolis Institute of Arts, The Brooklyn Museum, Phoenix Art Museum, Norton Museum of Art, Crocker Art Museum, Yale University Art Gallery, Princeton University Art Museum, and Harvard University Art Museum.
He has previously taught Chinese art at the University of Colorado and San Francisco City College, Connecticut College, and Arizona State University, has organized several exhibitions, and is the author of a book, and numerous exhibition catalogues and articles on Chinese painting. Chang served for many years as Vice President and Director of Chinese Paintings at Sotheby's, and was formerly a painting specialist at Kaikodo in New York.
Back to News