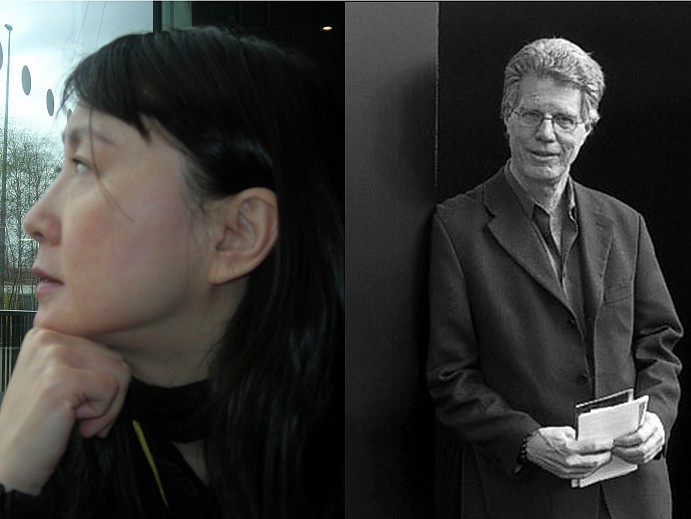 Artist & Curator Talk: Robert C. Morgan, Michelle Y. Loh and Wei Jia on "Cursive Script, Color, and Collage: The Art of Wei Jia"
February 19, 2015 - 2:00 PM to 3:00 PM
NanHai Art will host an artist and curator talk for the upcoming exhibition "Cursive Script, Color, and Collage: The Art of Wei Jia" to explore how Wei Jia's work has been shaped by the multiplicity, multi-consciousness, diversity of materials that characterize contemporary culture. This discussion is held from 2:00 to 3:00 P.M. on Saturday, February 21, 2015, immediately followed by a hosted opening reception for the exhibition. Please register to attend the talk.
Curator of this exhibition Robert C. Morgan will lead a discussion with artist Wei Jia, and art consultant Michelle Y. Loh on the artist's unique approach in his work, from paper to calligraphy, gouache to ink, with repeated cycles of tearing, mounting and painting on canvas. Expressionistic abstraction and traditional Chinese calligraphy burst in spontaneous flourishes throughout Wei's paintings, creating a multi-layered sense of lineage that liberates his work from the limits of tradition.
Speakers: Robert C. Morgan, Michelle Y. LOH, and Wei Jia
Robert C. Morgan
Robert C. Morgan, Ph.D. writes frequently on the work of Chinese contemporary artists. He lives in New York City and teaches in the Graduate School of Fine Arts at Pratt Institute and the School of Visual Arts. Author of many books and exhibition catalogs, he is a painter and New York Editor for Asian Art News and World Sculpture News. In 1999, he was given the first Arcale award in Salamanca (Spain) for his work in Art Criticism. In 2011, he was inducted into the European Academy of Sciences and Arts. He has curated over 80 exhibitions of Modern and Contemporary Art in various galleries and museums worldwide.
Michelle Y. LOH
Michelle Y. LOH is a New York-based art consultant. She was born and raised in Shanghai and educated in the United States. Loh specializes in organizing art fairs and group exhibitions. She advises individual and institutional collectors about contemporary art. Most recently, LOH was guest curator of "Tales of Two Cities: New York & Beijing," a group exhibition of Chinese and Western contemporary artists at the Bruce Museum in Greenwich Connecticut. The show was featured in the New York Times in July 2014. Loh was also guest curator of "Oil and Water: Reinterpreting Ink", a three person exhibition of contemporary Chinese-American artists Qiu Deshu, Wei Jia, Zhang Hongtu at the Museum of Chinese in America in New York; April 26 – September 15, 2014. She was a member of the founding team of the Asian Contemporary Art Fair, New York (ACAF NY), 2007 and 2008. From 2003 to 2005, she was co-publisher of the magazine "Art Asia Pacific."
Back to News