BIOGRAPHY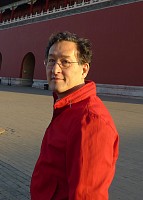 Arnold Chang
Arnold Chang (Zhang Hong εΌ ζ΄ͺ), alias Juchuan (巨川), was born in 1954 in New York City. He is a native of Jiashan, Zhejiang Province. He studied art history with Professor James Cahill, and holds a master's degree from the University of California, Berkeley, and a bachelor's degree from the University of Colorado.
Primarily a landscape painter, Chang studied painting and connoisseurship with C.C Wang for twenty-five years. He also studied with Kuo Yen-ch'iao in Taipei and Wang Chi-yuan in New York. His landscape paintings have been exhibited internationally and are in the permanent collections of many museums, including The Metropolitan Museum of Art, Los Angeles County Museum of Art, The British Museum, Asian Art Museum, The Art Institute of Chicago, Minneapolis Institute of Art, Brooklyn Museum, Phoenix Art Museum, Norton Museum of Art, Crocker Art Museum, Yale University Art Gallery, Princeton University Art Museum, and Harvard Art Museums.
Chang has previously taught Chinese art at the University of Colorado and San Francisco City College, Arizona State University, and Columbia University. He has organized several exhibitions, and is the author of a book, and numerous exhibition catalogues and articles on Chinese painting. Chang served for many years as Vice President and Director of Chinese Paintings at Sotheby's, and was formerly a painting specialist at Kaikodo in New York. He is currently Senior Consultant for Chinese Paintings at Sotheby's.