BIOGRAPHY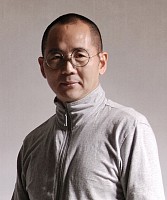 Shen Chen
Born in China in 1955, Shen Chen is a New York based artist. He began his art education in high school and continued his training at Shanghai Art College. He moved to Beijing after earning his BFA from the Shanghai Academy of Theater in 1982. In 1988, he came to the United States on a fellowship as artist in residence and continued his studies at Boston University on an MFA scholarship the following year. He has lived in New York since 1991.
Shen Chen recapitulates the meditative and deliberative brushwork associated with traditional Chinese ink brush painting. His language, however, is contemporary. His fully abstract paintings, which reference the aesthetics of minimalism, are a study of brushstroke, color, and tonality. To create his subtle umber surfaces, Shen paints with a wide variety of traditional Chinese brushes. Working with canvas on the studio floor, he layers the surface by moving progressively top down, in a vertical motion. The discrete horizontal lines visible on the surface are a record of where each vertical brushstroke began and stopped. It is this meticulous layering of color that achieves the resonant tonal hues of his paintings, which also manifests his rigorous discipline.
His works have been exhibited at various art museums, including National Art Museum of China, Roma Academy of Fine Arts, Today Art Museum, Queens Museum of Art, Bochum Museum, Shanghai University Museum, Hexiangning Museum of Contemporary Art, Museum of Chinese in America, Epoch Art Museum, Yuan Art Museum,Himalaya Museum of Art, Singer Museum of Art, Kunsthalle Recklinghausen, Museum Hurrle Durbach and ME Collection Berlin. His works are in many public and private collections including ME Collection Berlin (Germany), Aszo Nobel Art Foundation (Netherland), Duke Energy Corporation (USA), Johnson & Johnson Foundation (USA), Today Art Museum (China), Stibbe Collection, (Netherlands), Shanghai University (China)
San Shang Museum of Contemporary Art (China), etc.