BIOGRAPHY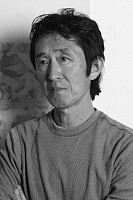 Wei Jia was born in 1957 in Beijing. Graduated with a B.F.A from the Central Academy of Fine Arts in Beijing (1984) and M.F.A. from Bloomsburg University of Pennsylvania (1987), Wei Jia currently works and lives between New York and Beijing, where he teaches at the Central Academy of Fine Arts.
Chinese traditional painting and calligraphy has been an integral part of Wei Jia's maturation as an artist. Wei Jia practiced calligraphy, Chinese painting and poetry from an early stage. He came to United States in 1985. The feeling of cultural displacement and co-existence of cultural identities led him to measure the influences from Eastern and Western cultures in his work.
Wei Jia uses hand-made paper to make abstract collages. His process involves a rigorously repeated cycle of tearing, mounting and painting, which leaves the artwork full of serendipitous combinations which cannot be replicated. The final work is made of layers of ink, pastel, gouache and hand-made paper, encouraging the viewer to have a close look at the exceptional medium and make a journey within the artwork.
Wei Jia has had numerous solo and group exhibitions internationally, including Central Academy of Fine Arts (Beijing), National Museum of Art (Beijing), Dadu Museum (Beijing),CU Art Museum University of Colorado at Boulder (Boulder, U.S.A.), Lincoln Center (New York), The Museum of Chinese in America (New York), Bruce Museum (Greenwich),etc. His works are in the public collections of The Wharton School of Business at the University of Pennsylvania (Philadelphia), Utah Museum (Salt Lake City) and the Dadu Museum (Beijing) and Brooklyn Museum (New York).