BIOGRAPHY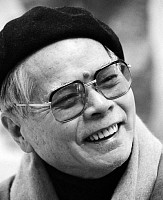 Shanyue Guan
Shanyue Guan was formally known as Zepei Guan. He was born in the City of Yangjiang in Guangdong Province in 1912. Guan practiced painting since he was young and later was discovered and trained by Mr. Jianfu Gao, the founder of Lingnan School.
In 1939, Shanyue Guan hosted personal exhibitions in Macau, Hong Kong, and Zhanjiang. Guan also started the "journey of thousands of miles" to observe people's daily life and capture natural sceneries. He traveled from Guangdong to Guangxi, Guizhou, Yunnan, Sichuan, Gansu, Qinghai, Shaanxi, and other provinces and published several collections of his artworks. In 1949, Guan was invited to Ren Jian Group in Hong Kong.
In addition, Guan has traveled to the Soviet Union, Poland, Switzerland, France, Belgium, Korea, Vietnam, Japan, and the United States to gain a deeper understanding of artworks around the world and further his art development. He has hosted many personal exhibitions and published a variety of his artworks. In 1991, Guan donated to the Chinese Artists Association to establish the Shanyue Guan Chinese Painting Fund. He also funded and donated his artworks to found the Shanyue Guan Art Museum in Shenzhen.
Download Artist's Biography in Chinese (PDF)