BIOGRAPHY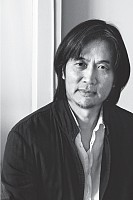 Wang Tiande
Born in Shanghai in 1960, Wang Tiande graduated from the Chinese Paintings Department of Zhejiang Academy of Fine Arts (now China Academy of Art) in 1988 and later obtained his doctorate degree from its Calligraphy Department. He is now a professor of art at Fudan University in Shanghai.
Wang Tiande has been continuously exploring the language of ink and its potential for spiritual expression. He often takes sources in classical landscapes and calligraphy, but he replaces the brushes with sticks of burning incense, executing his imagery in a unique artistic language. Imbuing the landscape with a certain contemporaneity, Wang Tiande creates an expansive virtual space in which contemporary people can engage with both nature and the ancients.
Wang Tiande's works are in the collections of the National Art Museum of China, Shanghai Art Museum, Suzhou Museum, Shenzhen Art Museum, Guangdong Art Museum, Hong Kong Museum of Art, Museum of Fine Arts Boston, the Metropolitan Museum of Art, Spencer Museum of Art, the British Museum, the Montreal Museum of Fine Arts, and UC Berkeley Art Museum and Pacific Film Archive, as well as major private collections in Asia and the West.