BIOGRAPHY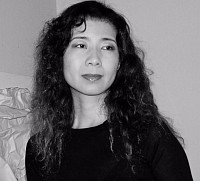 Stella Zhang
Stella Zhang was born in Beijing, China. She received her BFA at the Central Academy of Fine Arts (CAFA) in 1989. In 1990, Stella moved from Beijing to Tokyo. She studied at Tama Art University before transferring to Tokyo Art University and earned her MFA in 1996. She has been living in the United States since 2003.
Stella's art is her way of interpreting various emotions and spiritual thoughts in order to show the true aspects of human nature. Her ideas are based on her identity. She chooses raw and ordinary materials to create familiarity, intimacy, and to stir emotions, and simply to create the effects of flatness, delicacy, and tranquility. These choices enable her to engage in personal reflections bordering on meditation. Her work extemporaneously disregards rules and boundaries in an attempt to channel her intimate needs of expression.
Stella's work has been exhibited in Mainland China, Hong Kong, Taiwan, Japan, and the US, and is in the collections of the National Art Museum of China, Beijing, Tan Shin Fine Arts Museum, Tokyo, among other institution and private collections. She has published six monographs and received many awards and recognitions, including Artist-in-Residence at Stanford University. She is now a guest instructor at Stanford University.