PRESS RELEASE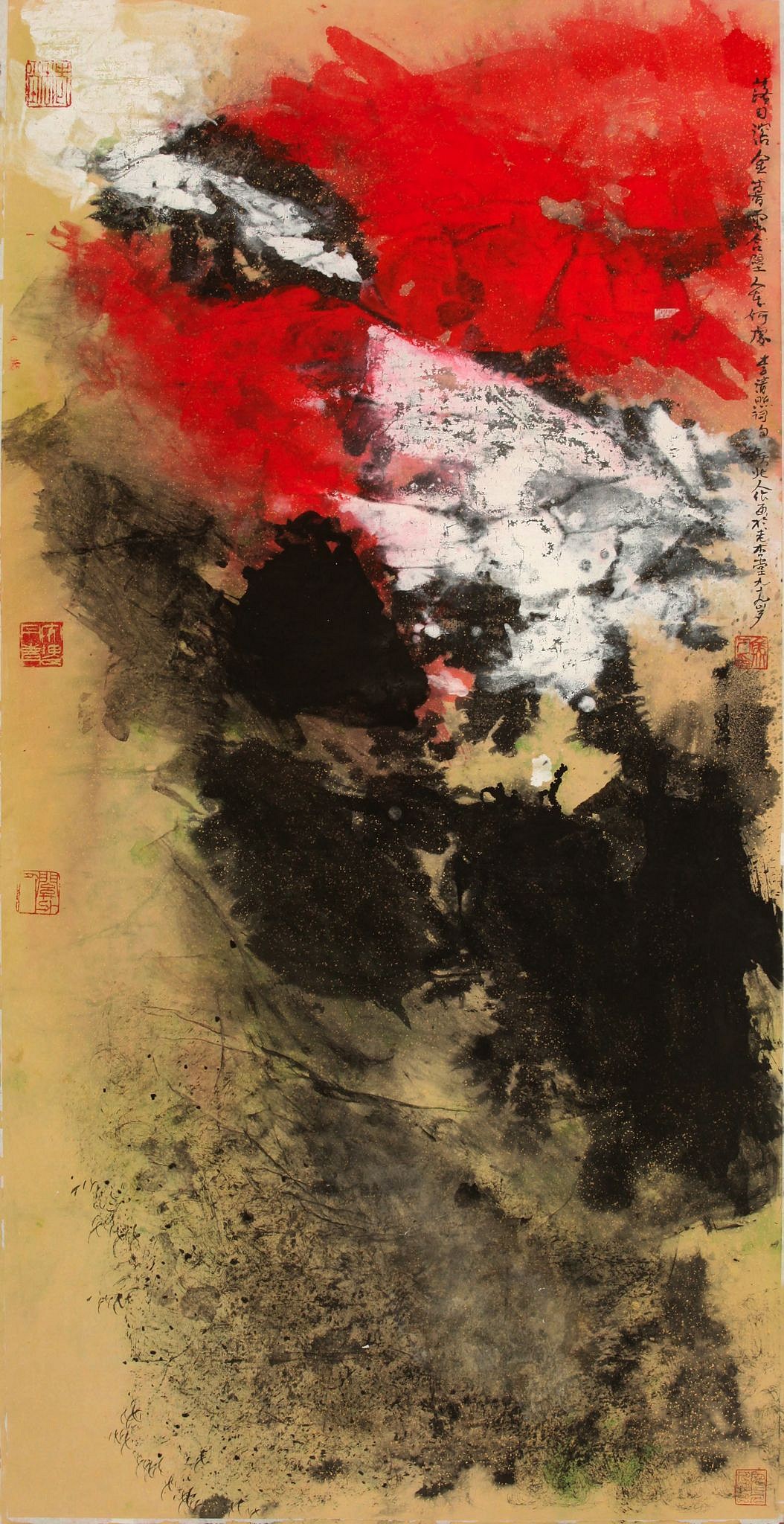 FOR IMMEDIATE RELEASE
NanHai Art presents:
Hou Beiren at 100
A solo exhibition curated by Mark Dean Johnson
Exhibition Dates: February 20 - March 26, 2016
Opening Reception: February 20, 2:00 – 4:00 p.m.
Please RSVP here.
January, 19, 2016 (San Francisco, CA) – NanHai Art is pleased to present Hou Beiren at 100, a solo exhibition featuring new works by master painter Hou Beiren. Now approaching 100 years old, Hou is renowned for his contemporary interpretation of the 'splash ink and color' school of painting, which seamlessly integrates both Eastern and Western aesthetics. Hou is regarded as one of China's most important contemporary artists to transform Chinese painting. NanHai Art will celebrate the opening of this exhibition on Saturday, February 20th with a reception from 2:00 to 4:00 p.m., at their Millbrae gallery (510 Broadway).
Hou Beiren at 100 will feature 14 new paintings created between 2014 and 2015 that continues his exploration of the 'splash ink and color' school of painting—a style developed in collaboration with legendary painting master, Chang Dai-chien in the 1960s. This school of painting incorporates Modernist and Abstract elements with traditional brushwork of classical Chinese painting. In these new works, Hou demonstrates his command of both Chinese and Western traditions, combining bold colors and rhythmic brushwork with abstracted imagery.
In the paintings, mountains and sky are reduced to their most elemental components and are rendered to minimize the more literal depictions of homes, individuals and villages. At first glance, "Lost in Clouds and Fog" looks like an abstract painting with a dark black shape in the foreground while, upon closer inspection, the painting depicts an aerial view of a mountain range. The alternating styles of brushwork in this painting creates a rhythmic balance between light and dark as well as between bold and soft colors. The artist uses strong black lines and sharp brushwork alongside softer washes, in which warm shades of orange and red intermingle with black and grey against the white paper. The shadows of the mountains are rendered in jet black ink, so stark against the gentle washes of the mountains that they stand out as both foreground and background.
"A Peak in Autumnal Tints" depicts a lone figure standing in the foreground of cascading chaotic forms. It looks like figuration and Abstract Expressionism unite in the painting. As the viewer looks back into the seemingly chaotic brushstrokes, a rendering of a house is revealed, and it becomes clear that a mountain landscape blends into the sky. At once contemporary and nostalgic, Hou's work leads the viewer on a journey to broaden their perspective on their relationship to the landscape in paintings that beautifully depict the poetic interconnectedness between mankind and earth's dynamic landscape.
About the Artist
Hou Beiren was born in 1917 in Liaoning, China and graduated from Kyushu University, Japan in 1943. During his early years, he studied painting under Li Zhongchang, then with Huang Binhong and Zheng Shiqiao. In 1956, Mr. Hou moved to the U.S., where he currently lives and works in Los Altos, CA. Hou's works have been exhibited and collected throughout the US and internationally, including by institutions including the Fine Arts Museums of San Francisco, San Jose Museum of Art, National Art Museum of China, Nanjing Museum, Zhejiang Art Museum, and Austria Museum of Modern Art. In 2004, the City of Kunshan in Jiangsu, China built Hou Beiren Art Museum to house 300 pieces of Hou's donated works and rare collections. In 2015, Liaoning Art Museum opened the Hou Beiren and Zhang Yunqin Gallery.
About the Curator
Mark Dean Johnson is Professor of Art and Gallery Director at San Francisco State University. He was the Principal Editor of 'Asian American Art: A History, 1850-1970' (2008: Stanford University Press), and curator of many exhibitions. These include 'China's Changing Landscape: Contemporary Chinese Ink' (2014: Nordiska Akvarellmuseet, Sweden), 'Asian/American/Modern Art: Shifting Currents' (2008: de Young Museum, San Francisco), and 'Chang Dai-chien in California' (1999: San Francisco State University). He was educated at Yale University and the University of California, Berkeley.
About NanHai Art
Founded in San Francisco in 1986, NanHai Art is presently located in Millbrae, California, providing easy access for the Greater Bay Area art community. NanHai Art focuses on introducing major artworks by contemporary Chinese artists that reflect the unique aesthetics of Chinese art while transcending cultural and artistic boundaries with a contemporary sensibility.
Visit www.nanhaiart.com for more information.
Location
NanHai Art exhibition hall located at:
520 Broadway
Millbrae, CA 94030
NanHai Art offices located at:
510 Broadway
Suite 301
Millbrae, CA 94030
NanHai Art is a 5 min. walk from the Millbrae BART and Caltrain stations, for drivers take the Millbrae Ave. exit on US-101.
Hours
Monday - Friday, 10 AM-5 PM, and by appointment
also open on February 20 and March 26, 2016