PRESS RELEASE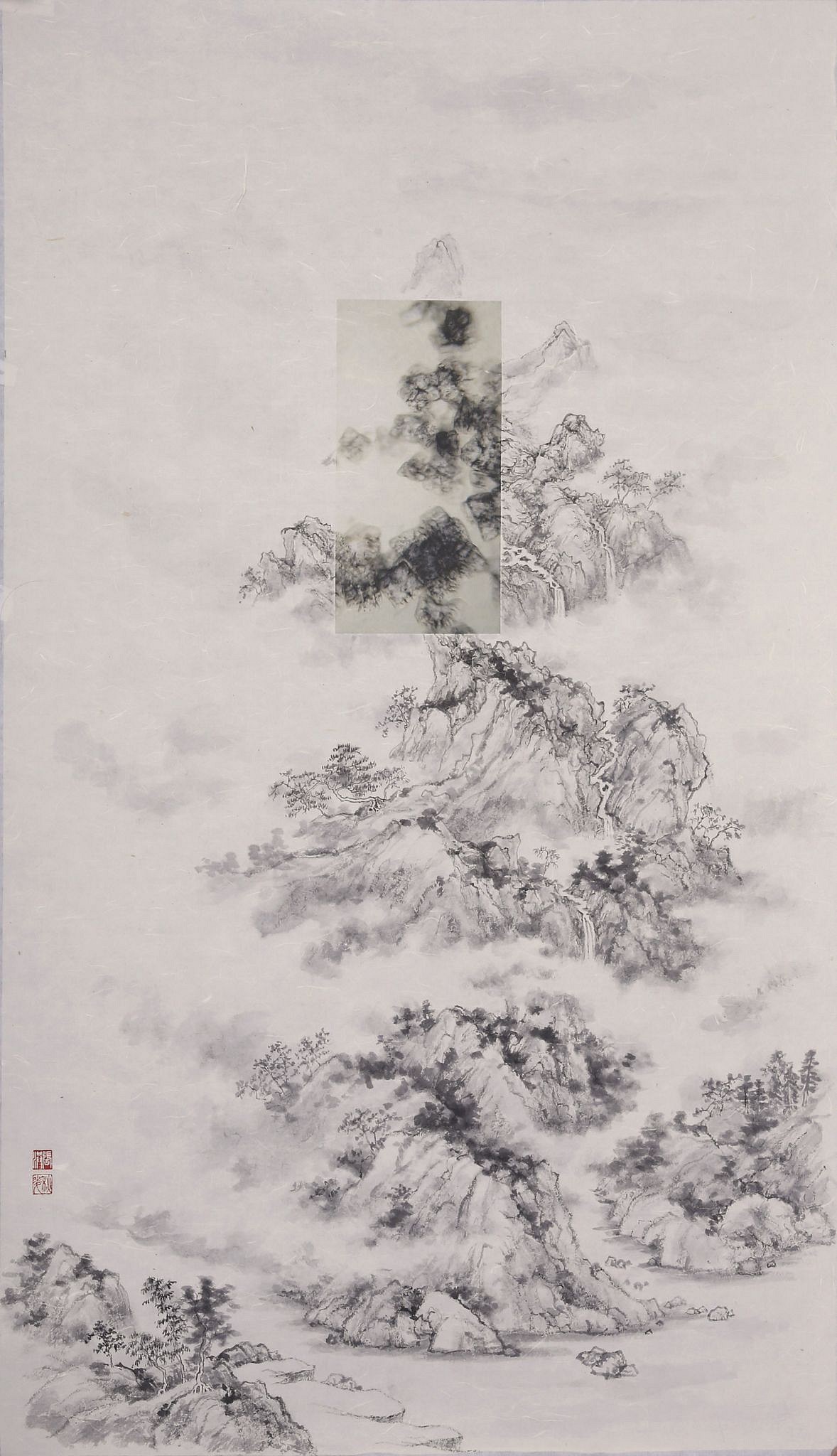 FOR IMMEDIATE RELEASE
NanHai Art presents:
A Literati Dialogue Through Lens and Brush: The Collaborative Landscapes of Arnold Chang and Michael Cherney
A solo exhibition of recent works by the artists Arnold Chang and Michael Cherney.
Exhibition Dates: September 29, 2017 – November 3, 2017
Opening Reception: September 29, 2017 5:30-6:30pm
September 14, 2017 (San Francisco, CA) - NanHai Art is pleased to present A Literati Dialogue Through Lens and Brush: The Collaborative Landscapes of Arnold Chang and Michael Cherney, an exhibition of the collaborative landscapes by the artists Arnold Chang and Michael Cherney, opening on September 29, 2017 and on view through November 3, 2017.
This exhibition will feature nine of the artists' collaborative landscapes of photography and ink on xuan paper, including two most recent 2017 works. It will be the most comprehensive exhibit of their collaborative works, aside from museum and private collections. Seven of the artists' individual works – Chang's ink on paper and Cherney's photographic print on mitsumata paper, will also be shown.
Arnold Chang (Zhang Hong, b. 1954, New York City) is one of the most accomplished contemporary practitioners of ink painting in the scholarly tradition. Michael Cherney (Qiu Mai, b. 1969, New York City), a photographer of profoundly original vision, similarly imbues his work with the literati aesthetic. The two artists, who share a love of classical Chinese painting, by 2009 had launched their current artistic collaboration, stretch and play with the two media and the history and principles of Chinese ink paintings. Cherney, who lives in Beijing and travels extensively to photograph throughout China, initiates each piece by choosing a radically cropped black and white photograph to print on slightly textured xuan paper well suited to painting. He shoots his photographs in black-and-white on high-speed 35mm film, and they are then processed as slides, radically cropped, digitized, blown-up, and finally printed. For purposes of their collaboration, he has learned how to print digitally on painting paper, and usually prints the first small image as a hard-edged form surrounded by ample blank space. He then mails the printed sheets to Chang in New Jersey, who gradually composes responses to those that speak to him. As the works in this exhibition attest, the images or their shapes that Cherney lays out are potentially quite challenging for a Chinese painter. Yet, each time Chang responded brilliantly and in many ways, thus, their collaboration, becomes more of "a contemporary evocation of the poetic dialogues that characterize some of the great moments of China's literary history", as quoted from the exhibition essay by Julia F. Andrews and Kuiyi Shen,
Both Chang and Cherney state that the tradition of Chinese landscape painting and the literati athletics has tremendous influence on them. As the result of such influence, their works always transport us into the world of the ancients, while being contemporary. Just as further stated by Julia F. Andrews and Kuiyi Shen, "These two, working in different forms of art, challenge the boundaries of their media, techniques, and concepts in many different ways, but each artist separately, and both of them together, achieve the calm and elegance of the literati aesthetic in their work".
About the artists
Arnold Chang
张洪 (Zhang Hong)
Arnold Chang (Zhang Hong 张洪), alias Juchuan (巨川), was born in 1954 in New York City.
He is a native of Jiashan, Zhejiang Province. He studied art history with Professor James Cahill, and holds a master's degree from the University of California, Berkeley, and a bachelor's degree from the University of Colorado.
Primarily a landscape painter, Chang studied painting and connoisseurship with C.C Wang for twenty-five years. He also studied with Kuo Yen-ch'iao in Taipei and Wang Chi-yuan in New York. His landscape paintings have been exhibited internationally and are in the permanent collections of many museums, including The Metropolitan Museum of Art, Los Angeles County Museum of Art, The British Museum, Asian Art Museum, The Art Institute of Chicago, Minneapolis Institute of Art, Brooklyn Museum, Phoenix Art Museum, Norton Museum of Art, Crocker Art Museum, Yale University Art Gallery, Princeton University Art Museum, and Harvard Art Museums.
Chang has previously taught Chinese art at the University of Colorado, San Francisco City College, Arizona State University, and Columbia University. He has organized several exhibitions, and is the author of a book, and numerous exhibition catalogues and articles on Chinese painting. Chang served for many years as Vice President and Director of Chinese Paintings at Sotheby's, and was formerly a painting specialist at Kaikodo in New York. He is currently Senior Consultant for Chinese Paintings at Sotheby's.
Michael Cherney
秋麦 (Qiu Mai)
One would be hard-pressed to find a "more Chinese" artist than Qiu Mai (b. 1969). Photographer, calligrapher, and book artist, Qiu Mai's work is done with the great sophistication that draws on the subtleties of China's most scholarly and esoteric traditions. Based in Beijing and a successful artist whose works have been collected by The Metropolitan Museum of Art's Department of Asian Art (the first photographic works ever to enter the collection of that department), Qiu Mai's art is less provocative than it is intellectually engaging, meditative, and often simply beautiful. What is provocative is his identity: Qiu Mai is the Chinese name for Michael Cherney, born in New York of Jewish parentage. Cherney's work is the cutting-edge demonstration of artistic globalization: if Asian artists can so readily "come West," then what is to prevent large numbers of future Western artists from "going Asian"? Or, like Qiu Mai/Michael Cherney, going both ways at once, both American and Chinese, modern and traditional. – Jerome Silbergeld, P. Y. and Kinmay W. Tang Professor (Emeritus) of Chinese Art History, Princeton University
Michael's works are in numerous museums and major private collections including The Metropolitan Museum of Art and Princeton University Art Museum and has been included in exhibitions at The Cleveland Museum of Art, The Nelson-Atkins Museum of Art, Asian Art Museum, Getty Research Institute, Peabody Essex Museum, Arthur M. Sackler Museum, Harvard Art Museum, Santa Barbara Museum of Art, Berkeley Art Museum, Yale University Art Gallery, Middlebury College Museum of Art, and Ruth and Elmer Wellin Museum of Art, Hamilton College.
About NanHai Art
Founded in San Francisco in 1986, NanHai Art is located in Millbrae, California, providing easy access for the Greater Bay Area art community. NanHai Art focuses on introducing major artworks by contemporary Chinese artists that reflect the unique aesthetics of Chinese art while transcending cultural and artistic boundaries with a contemporary sensibility. For more informaton: www.nanhaiart.com
Location
NanHai Art
Gallery 200
510 Broadway
Millbrae, CA 94030
NanHai Art is a 5 min. walk from the Millbrae BART and Caltrain stations, for drivers take the Millbrae Ave. exit on US-101.
Hours
Monday - Friday, 11 AM-4 PM, and by appointment
also opens on September 30 and October 7, 11 AM-4 PM
Contact
Wendy Zhang | NanHai Art
wendy@nanhai.com
(650) 259-2100