PRESS RELEASE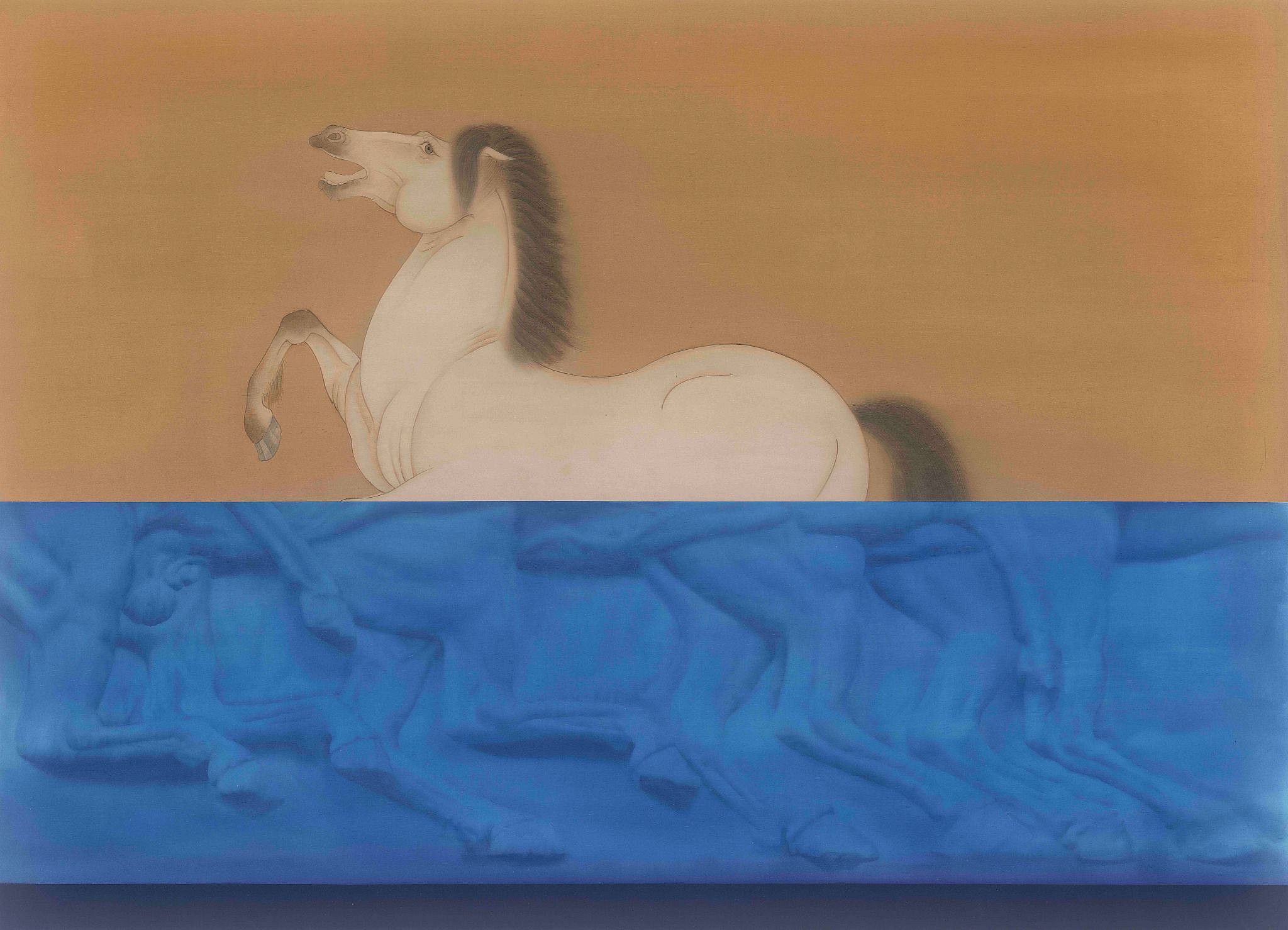 FOR IMMEDIATE RELEASE
NanHai Art presents:
Paramita - Recent Works of Xu Lei
Exhibition Dates: October 5 - November 8, 2019
Opening Reception: October 5, 5:30 - 6:30 p.m.
Please RSVP here
(September 12, 2019) NanHai Art is pleased to present Paramita: Recent Works of Xu Lei, curated by Kuiyi Shen. The exhibition will be open on Saturday October 5, in conjunction with the 2019 Asia Week San Francisco Bay Area. The artist Xu Lei will be present for the opening.
Xu Lei (b. 1963) is one of pioneers in the realm of Chinese contemporary ink art, who participated in and experienced its whole process of development. In the middle of 1980s, Xu Lei, then working at the Jiangsu Chinese Painting Institute in Nanjing, threw himself into the New Wave movement and may serve as a bridge between New Literati painting and the avant-garde. Entering the 1990s, Xu Lei did not continue to follow the wave of avant-garde art, but returned to traditional media, using the gongbi technique on xuan paper, with which he had begun his artistic career. In the past three decades, he entered the discourse of contemporary art with a merging of traditional fine-line painting (gongbihua) and classical Western visual motifs, using a sophisticated painting language to create a unique visual text.
In the paintings one frequently sees horses, antique chairs, blue and white ceramics, Taihu garden rocks, curtains, and screens, which construct his unique rhetorical code. He uses the traditional vocabulary of fine-line gongbi painting but brings in the concept of "emptiness" from Asian philosophy to create an illusion of tranquil quietude and mysterious gloom, creating a peaceful realm of illusory scenes with a religious tone. His compositions are often divided into several parts by using architectural elements or furniture to create space. His concern is not the representation of physical space but to provide a space for instantaneous illusions. Carefully placed montages show his mastery of space. The viewer's line of sight is constantly attracted and distracted by all kinds of disconnected, mutually contradictory signs, such as classical symbols of Yuan and Ming landscapes, horse, deer, birds, Republican figure, furniture, curtain, hat, shoes, and maps. Through the decoding of traditional landscape semiotics and introducing the signs of living experience in contemporary society he constructs a world in which mutually contradictory elements are forcibly integrated together as one world.
Xu Lei's broad knowledge of Chinese classical literature and music is paired with deep interest in western philosophy and religion. With this thoughtful approach, his paintings are always imbued with certain philosophical questions. With elegant brushwork and subtle colors, they seduce us into a deep, quiet, mysterious, and melancholy dream world. Inside, every secret icon has its own metaphor, and with a certain decadent pathos, recounts his dreamscapes. Like the words of like Kawabata Yasunari: "Decadence seems far from the divine, but actually it is a short-cut," a short cut to Paramita, the distant shore.
About the Artist
Xu Lei (b. 1963 in Nantong, Jiangsu Province) graduated from Nanjing Art Academy, majoring in Chinese painting, and currently works at Chinese National Academy of Arts.Xu Lei's work has been exhibited in major exhibitions including the Solomon R. Guggenheim's 1998 survey of Chinese art and civilization "China: 5000 Years"; China/Avant-Garde(1989) at National Art Museum of China; Dragon's Nation: Contemporary Art of China(2004)at Irish Museum of Modern Art; Zeichen im Wandel der Zeit: Chinesische Tuschemalerei der Gegenwart(2008)at Staatlichen Museen zu Berlin; Reshaping History China Art from 2000 to 2010 at Beijing National Convention Center, and the 2010 Venice Architecture Biennale. His solo exhibitions have been held in the National Art Museum of China, Suzhou Museum, Today Art Museum and other places in Hong Kong, London, New York and Madrid etc.
About NanHai Art
NanHai Art is an art gallery that specializes in Chinese contemporary art. It focuses on introducing the artworks that reflect the unique aesthetics of Chinese art while transcending cultural and artistic boundaries with a contemporary sensibility. Currently located in Millbrae, California, it provides an easy access for the Greater San Francisco and Silicon Valley audience.
For more information: www.nanhaiart.com